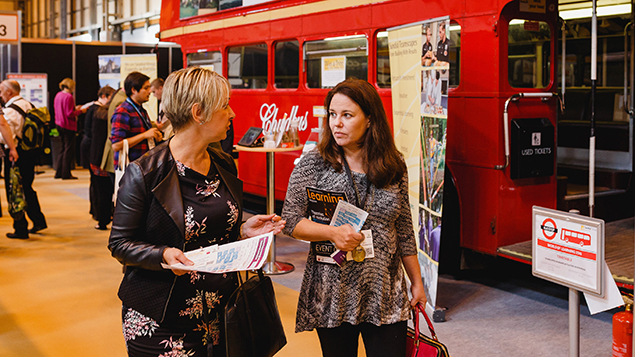 Last week's World of Learning Conference focused strongly on the ways organisations can facilitate it, and how to pass control over to learners. 
One message rang out loud and clear from the World of Learning Conference: learning and development must relinquish control of learning, let learners identify what they need and provide learning that meets those needs.
World of Learning: Quotes from the conference

"We need to give people space to learn and to support and enable that learning." Robin Hoyle, author, Informal Learning for Organisations
"What makes a difference is how employees are treated by their manger and inspired by their leader." Karen Bowes, HR director, Capital One
"L&D staff need a new, more inclusive, mindset. They have to get engaged in the big issues and the big changes." Nigel Paine, former chief learning officer, BBC
"What we do in L&D is probably the hardest thing that people are involved in within the business – asking people to have better conversations about workplace performance." Sukh Pabial, head of organisational development, One Housing Group
"Coaching is integral to how the organisation learns." Dr Mark Cole, head of L&D at Camden and Islington NHS Trust
"L&D should be advocates for the learner." Robert Todd, former head of learning technologies at LinkedIn
"Gamification is about applying game elements to non-gaming environments. It is not about sugar coating the things we don't like." Tim Hall, managing director, Cognify 
Financial services organisation Capital One, which has topped the best place to work in the UK for the last three years, attributes its success to a clear focus on what motivates its employees to do a good job.
Citing Dan Pink's book "Drive", Capital One's HR director Karen Bowes told delegates that employees are motivated by three factors: autonomy, mastery and purpose.
Employees who are clear about the purpose of the organisation and their role within it, and those that are supported well and trusted to get on with their work, will do an excellent job. "If you can help people be brilliant, you unleash something pretty special," Bowes said.
Capital One's "surprise and delight" programme is one example of how the company nurtures autonomy. All call agents have a discretionary £200 to spend on fixing a customer's problem, and they decide when and how to use it.
One agent, for example, bought a replacement bracelet for a customer who had her credit card and bracelet stolen. The customer had travelled to a particular shop to buy the bracelet only to have it stolen soon afterwards. The agent found out where the bracelet was purchased, bought a replacement and sent it to the customer.
Bowes said this focus on autonomy drives loyalty and a learning culture. And once you have that, it is easier for managers to get out of the way and let people get on with their jobs.
Supporting all
This point was echoed by Dr Mark Cole, head of L&D at Camden and Islington NHS Trust. He told delegates it would be foolish to train people for three years and not let them get on with their job. But that is exactly what often happens in the NHS.
His trust's approach to changing that is to put coaching at the heart of people development. He is using a range of tools – the Scarf model, Blanchard's situational leadership model and Whitmore's Grow model for coaching – to help support all managers, not just those requiring improvement.
The trust is also copying a technique from the military. This means that its teams carry out "after-action reviews" to measure the success of their work. Teams have to answer the following four questions to analyse how they worked:
What did you expect to happen?
What actually happened?
Why was there a difference?
What did you learn?
This is supported by positive feedback, which looks at what someone did, the benefit of what they did and encouragement to do more of it. According to Cole, most employees are doing a good job and they should be told that they are.
Autonomy matters at legal company Wragge Lawrence Graham, too. The company designed game mechanics into its compliance training to make it more fun and engaging. The onus is on the learner to learn from the decisions they make. At the same time, the system tracks decisions so that managers can see where people are going wrong. They can then develop training to fill any knowledge gaps.
"Autonomy is really important," said Jemma O'Reilly, principal associate at Wragge Lawrence Graham: "We want learners to be guided by their decisions and to stop and evaluate each question."
Take control
Learners taking control of their own learning, combined with rapid advances in educational technology, will have a huge impact on L&D in the near future, according to Robert Todd, former head of learning technologies at LinkedIn.
He argued that in the last 20 years technology has transformed the way people create and consume information, but L&D has not kept pace.
L&D must respond to these current and forthcoming changes by becoming the advocates for learners, understanding how they want to learn and what motivates them to do a good job. He suggested that L&D professionals start experimenting with new ways of learning and new technologies, and look beyond traditional tools and technologies as "old educational paradigms" are built into them.
Todd said there are 10 ways in which L&D can innovate:
Look into MOOCs – they are free, so try them out and suggest relevant ones to colleagues.
Understand xAPI – look into how this new technology standard could be used in learning interventions.
Create web pages for content, not courses.
Create playlists of content for learners to consume.
Video anything – use video to capture ideas and thinking around the organisation.
Develop apps not content – examine what apps are useful for your learners and consider creating some rather than using traditional forms of content.
Flip your courses – provide all the content online first and then consider the best approach for a face-to-face session.
Start curating content – curate content before you create new content as high quality content already exists online.
Design learning missions – create guided experiments for learners in which they are invited to explore new ideas and share back what they learn.
Put your learners at the heart of what you do.
There was a lot of enthusiasm at the conference for shifting more responsibility for learning on to learners, but there was also an acknowledgement that it will take time.
"It's a long process to build trust in employees and the role of leadership is very important," said Bowes.