Our Covid-enforced break from traditional working routines has seen plenty of discussion about new ways of working now that some semblance of normality has returned. People have mooted redesigning offices to create more space, more environmentally friendly routines, more empathetic management and even bringing dogs to work. But there's another way of bringing the home to the office – invading it with greenery.
Many of our homes have benefitted from the extra attention they've received during lockdowns so perhaps one way to make the office more attractive is to fill it with foliage.
Studies have shown plants can reduce stress by calming the nervous system, making them feel happier. And there's a plethora of research that links good quality green spaces with better mood.
One NASA experiment, published in 1989 while the space agency was experimenting on ways to detoxify space station environments, even found that indoor plants can rid the air of cancer-causing volatile organic compounds like formaldehyde and benzene. Studies have also shown how soil microorganisms in potted plants also play a part in cleaning indoor air.
Of course, lab experiments in ideal conditions can only tell us so much about the benefits of plants – scientists say that in homes and offices the air cleaning properties of plants may be much reduced – but never mind, they are nice to look at, so that can't be a bad thing can it?
The return to the office could see some of us encountering dead plants, of course. It's hardly likely that facilities staff will have had the time to go round watering everyone's favourite cheese plant, especially given all the rat-catching they've had to get involved in.
Low maintenance
South-east London-based indoor plant specialist BAM Botanics tells Personnel Today that as restrictions have eased it has started receiving more plants and holder orders from offices. Until recently, sales had mainly been to people looking to brighten up their homes given the amount of time they were spending in them. So what kinds of plants have been selling?
Co-founder Ellen says: "For offices we tend to recommend low maintenance plants as they can get a little neglected at work. Snake plants, cacti, succulents and devils ivy are all pretty easy to look after and a little more forgiving if forgotten about.
"Macrame hangers have been popular for this because these enable people to suspend plants which can be really impactful when grouped together. We've also had a lot of business getting in touch regarding our macrame workshops as these are great for team building and mindfulness days."
Office Furniture Online says biophilic design – bringing the outdoors indoors – is linked to increasing employee performance and happiness and claims it has seen a 2,600% increase in Google searches for "easy to care for" plants as companies plan their office returns.
The company says adding plants to the new, re-configured hybrid office is a "great way to make staff feel welcome and calm" and that getting staff members involved in choosing and taking care of their plants is a way of encouraging them to become more engaged, productive, and feeling valued in their role.
But with fewer people in offices to look after plants, Office Furniture Online agrees with BAM Botanicals that low maintenance greenery is the answer.
What species to buy?
So what species should be bought? What looks good and meets the low care criteria?
Mark Taylor, managing director of Office Furniture Online, says: "Do you have lots of natural light, or do you need to consider plants that work well in fluorescent light? Do you have enough space for plants that grow quickly? Do you have an office dog that the plants may be toxic to? These are all things to consider when choosing your perfect office plant."
Taylor's recommendations include:
• English ivy – a beautiful plant that can help create a real biophilic feel, thanks to its great ability to climb. All you need to do is plant it in a shady area with organically rich soil. It needs to be watered twice a week, but make sure the top inch of the soil is dry before watering.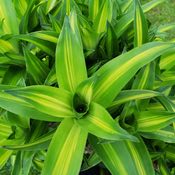 • Dracaena (pictured left) is one of the easiest to grow indoor plants thanks to its striking appearance and ease of care. These plants prefer filtered indoor light, typical of an office. They also need a lot less water than most indoor plants so simply mist the soil every two weeks when the top soil is dry.
• Cacti are another great choice, as their colour and shape variations help them fit many different tastes and styles. Cacti can survive in both sun and artificial light, and water between every one and two weeks, but only when the soil is very dry.
• Peace Lilies are excellent at cleaning the air of the room they are in. They like medium to low light and need to be watered once a week.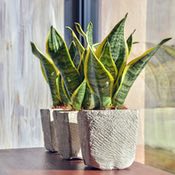 • Snake plants (left) are striking but easy to care for. During colder months you only need to water it once a month or once dried out, and a little bit more often during summer. It can also thrive in all different kinds of light – even low light areas.
• ZZ plants can survive well in fluorescent light, making it perfect for office environments. It can also thrive even after missing a few watering, so makes the perfect indoor plant for busy people and those new to plant care.
Latest HR job opportunities on Personnel Today

Browse more human resources jobs