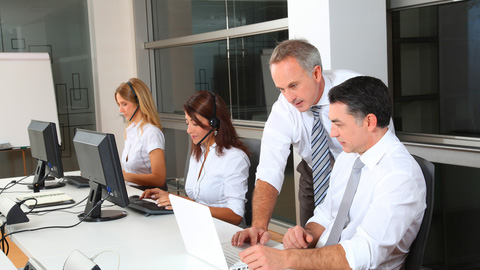 During an economic downturn, a knee-jerk reaction organisations often have is to slash investment in learning and development. But these turbulent times have actually proven to be very positive for the coaching market, with savvy organisations realising that it can help them manage change better, and improve their chances of success when the market picks up again.
According to the Chartered Institute of Personnel and Development (CIPD), the number of organisations using coaching for line managers has actually risen slightly in the past three years, from 49% in 2009 to 52% in 2012. Furthermore, around 16% of organisations are using external coaches to help them build coaching capability internally.




Coaching at Heineken




Robin Pring, UK HR director for brewery company Heineken, discusses coaching in her organisation.

"I've worked in a lot of organisations, and all of them had a culture of respecting people and investing in their continuing development – and one of those routes has been coaching. In a couple of places I worked, there was a culture of manager as coach, with specific development targeted at managers to enable a coaching culture to infiltrate across the business.

"At Heineken, coaching features in many of our development programmes. There is no formal return-on-investment process, but we ensure there's a three-way dialogue between manager, coach and employee so they agree objectives, review them halfway through and have a formal review at the end to see if the objectives been met.

"We prefer to build our own coaching capability, led by the learning and development department. We started to use sport and high performance as a theme in 2011, as we were to be a major sponsor of the Olympics. It was the first time we'd created a real focus on talent and development, so we wanted to take something that was tangible for everyone.

"Our colleagues in Group HR have created a programme called Heineken Global One 2 Learn, which allows people to access a wide range of both functional and leadership development options. We're building functional and leadership academies across a number of specialisms, including HR, which will be added at the end of the year.

"With so many of our staff working in the field, it's a real challenge when you're spread across multiple sites with different roles. In brewery and manufacturing sites, we've installed computers and monitors so everyone has access to learning offerings. I'm a big believer that if an individual requests coaching or feels they would benefit, we would offer it to them at whatever level.

"We're also working on building peer-to-peer coaching. Following on from our leadership programme for senior leaders, we facilitate continuous learning groups to discuss what they have learnt. These have been so successful that they're now facilitating them for themselves.

"Mentoring is important, and we now have 80 managers who are mentors across the business. It's part of how we're embedding coaching and mentoring into the business. We don't want it to be seen as a solution to a problem. It's a positive way of building on someone's potential and performance. Even our graduates have access to a mentor, and at the very top level we use external coaches to help give our leaders a different perspective."



This move towards developing and embedding a "coaching culture" is helping organisations get a better return on investment in coaching and use it to make them more resilient to change.
"It's unsustainable to coach everyone in the organisation," explains John McGurk, adviser in learning and talent development at the CIPD. "The most sustainable model is if the learning and development department is prepared to take on the role and do some of the implementation."
Building resilience
McGurk adds that, while in the past, much of the focus around coaching has been around senior executives, more and more organisations are investing in coaching across multiple levels of seniority. The advantages of this are that managers can then support other employees, and this builds resilience across the business as a whole, helping teams perform better.
This is certainly the case at Heineken, where UK HR director Robin Pring has integrated coaching into many of the leadership and development programmes, and staff at any level can ask for coaching support if they feel it would help them to do their job.
"Organisations with a full end-to-end approach to coaching make it work well. In the companies I've worked at, we would diagnose carefully to ensure [the coaching] meets the needs of the individual – but also that it would bring benefit back into the business," she says. "We look for right match, set clear objectives at the start and review whether we've met them at the end."
Organisations are also becoming more demanding of coaching providers to demonstrate that they can deliver against specific business goals, according to James Brook, co-founder and director of training provider Strengths Partnership: "Organisations are being more savvy in terms of the coaches they bring in and their processes – there are a lot more checks and balances to ensure it's delivering value."
Worth the investment
For some, however, this can be a difficult conversation, as in the past coaching has often been an ad-hoc investment and organisations might not have applied the same sort of evidence base they would to other major investments. According to the CIPD's September Coaching: the evidence base report, this is because much of the evidence for coaching so far has been based on "advocacy, rather than enquiry"; that is, organisations tend to invest based on descriptive case studies of where coaching worked in other companies, rather than more rigorous investigations.
Dale Kirk, principle consultant at Thales Training and Consultancy, says: "Too many organisations still think 'coaching is a good thing, so let's invest in it', or focus on cost or speed of response. What they need to be looking at is business impact, whether the coaches understand their business and their situation."
Many of the organisations successfully using coaching, he adds, have moved away from focusing it on individuals and have become "organisational advocates", where whole teams and departments share the benefits of coaching.
Chris Rogers, managing consultant at organisational development consultancy ASK, agrees: "Coaching has not traditionally been seen as a tool to deliver a business impact quickly. Too often it's seen as an individual, remedial approach designed to help someone who has a problem."
Where it is seen as a positive force for change, on the other hand, it tends to be more effective.
More and more learning and development and HR professionals are now asking coaching providers to "kick-start" a programme that creates that organisational shift towards a coaching culture.
"We focus on self-sustaining aspects of coaching," says Kirk. "Our input will be high at first, and then the organisation takes it forward." In Heineken, for example, groups that have attended leadership programmes share what they've learnt through peer-to-peer coaching sessions.
As with any major investment, the key is to link the goals of coaching programmes to other business goals and review progress regularly.
"Companies that are embarking on internal coaching programmes are aligning it with the business," concludes McGurk. "When it's just a cosy conversation, it's divorced from other issues, so it won't be as effective."
For more information on learning and training, take a look at Personnel Today's free buyers' guide on the topic.