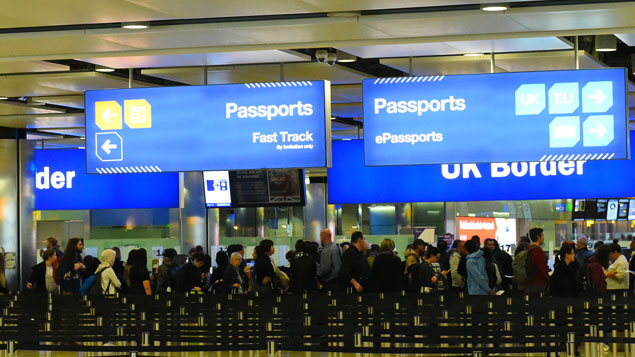 Employers wishing to sponsor non-EEA nationals under tier 2 (general) this winter should be aware that there is no guarantee that an application for a restricted certificate of sponsorship will be successful.
Tier 2 (general) certificates of sponsorship (CoS) prove that the employer has checked the applicant is qualified to do the work they are hiring them for and that they are eligible for a visa.
There is a limited number of certificates available each month from the Home Office. The quota was reached in December 2017, and there is a real risk that the cap will be reached again, particularly in January, February and March.
Under the tier 2 (general) sponsorship route, there are a maximum of 20,700 CoS available each year for employers to sponsor non-EEA skilled workers. The cap of 20,700 only applies to "restricted" CoS, which are generally only for tier 2 (general) workers applying from overseas who will earn less than the higher earner threshold (currently set at £159,600 per year).
Immigration: Tier 2 sponsorship
The annual cap of 20,700 restricted CoS is split into monthly unequal allocations. The allocation year runs from April to April. At the start of the allocation year there are more available, starting at 2,200 per month.
By September this falls to 1,500 per month and in February and March there are only 1,000 per month available. Any unused CoS for any month are carried forward to the following month.
Process for applying for a restricted CoS
Employers who wish to assign a restricted CoS to a skilled non-EEA individual must first apply to the Home Office for a restricted CoS as part of the monthly allocation cycle. The application must be submitted by the 5th of the month and the panel meets on or around the 11th of the month.
The Home Office uses a points-based test to assess applications, with occupations on the shortage occupation list and PhD roles given priority. The rest of the applications are then assessed on the basis of the salary that will be paid for the role.
If the application for a restricted CoS is approved by the Home Office, the employer can then proceed to assign the CoS to the individual they wish to sponsor and that individual is then able to submit a tier 2 entry clearance application from their home country to work in the UK.
Immigration cap reached
Until very recently, the cap had only been reached once in the summer of 2015. This meant that, apart from a couple of months in 2015, employers who applied for a restricted CoS would generally obtain one, assuming all the eligibility criteria for tier 2 (general) were met. It was usually possible to obtain a restricted CoS even for roles that offered the minimum annual salary of £20,800 under tier 2 (general).
However, in December 2017 the cap was yet again reached. There were 1,575 restricted CoS available in December 2017, but we understand that many applications for restricted CoS were refused. In particular, in circumstances where the role was neither a shortage occupation role nor a PhD role, only roles with annual salaries of £55,000 or above were granted the restricted CoS.
2018 allocations
The monthly allocation for January 2018 will be lower as, at the time of writing, only 1,409 restricted CoS are available (as part of the January 2018 allocation has already been used) and in February and March 2018 this will drop to around 1,000 per month. This means it is likely to be far more difficult for employers to obtain restricted CoS for roles with lower or middling salaries. There is certainly no guarantee of obtaining a restricted CoS in the first part of 2018 as it is likely that many of those refused in December will re-apply.
Although there is not much that employers can do in practice to ensure they obtain a restricted CoS, they could consider increasing the salary for the role to maximise the chances of a successful application. The salary bands for the awarding of points should be checked, as in some cases a slight salary increase may take the application into the next points band.
However, employers will need to check that the salary offered still falls within the range stated in the adverts posted or the employer will need to run the resident labour market test, which involves checking whether the job is on the shortage application list, again and advertise at the higher salary level.
Employers who were not granted a restricted CoS in December may re-apply in January or February 2018 but should check that the adverts used as part of the resident labour market test were posted within the last six months.
In terms of future planning, where possible, it may be worth applying for restricted CoS in the April to September allocation cycles when the monthly limit is higher than for the rest of the year.
Employers should also make the prospective employee and managers aware that a restricted CoS may not be awarded immediately, leading to a delay in the person being able to start work. This will inevitably also have a knock-on effect for the prospective tier 2 migrants who ideally should wait for the restricted CoS to be granted before resigning from current jobs or making other arrangements.
Other options?
If the restricted CoS application isn't successful, it may be worth considering other visa options that may be available. For example, if the individual is coming with a family member who is obtaining a UK visa in their own right they may be able to come to the UK as their family member's dependant.
It's also worth employers asking whether the individual has any existing family member or relationship with someone who is a UK, EEA national or someone with UK immigration status as there may be other options on that basis.
Rather than relying on the tier 2 (general) category, there may be some cases where the individual is already an existing employee of an overseas group company and, as such, may have the option to come to the UK under the tier 2 (intra-company transfer) route, for which a restricted CoS is not required. In some cases, it may be also appropriate to consider a tier 5 visa for temporary work of up to two years as an intern.
Thinking laterally can sometimes pay dividends. However, as always, early planning and consideration of the immigration issues remains crucial in order for employers to maximise their chances of bringing key staff to the UK.