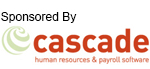 You may be making initial steps towards purchasing new HR software and do not know where to start. Or you might already be electing a vendor but lack experience to make the best decision.
Perhaps you have attended an HR software exhibition and feel confused about what to do next?
This Personnel Today webinar, brought to you in association with Cascade HR, provides a free 60-
How to buy HR software: a 60-minute guide webinar
minute guide to buying HR software.
Independent HR software consultant Denis Barnard guides you step by step through the software buying process to ensure that you have the knowledge to introduce the perfect HR technology for your organisation.
Watch this webinar to make sure that you:
know how to assess what your organisation needs;
understand your company's procedures and how they relate to HR technology;
select a shortlist of the most viable HR software vendors; and
know how to make product demonstrations work for you.
About our speaker: Denis Barnard is a consultant specialising in the selection of HR and payroll software for a range of clients in various industry sectors worldwide.
Entering HR from finance, his analytical background stood him in good stead as he became involved in HR software projects. He acts as an enabler with his clients, helping them arrive at the most suitable buying decisions, ensuring the client has ownership of the HR buying project.
This webinar was originally broadcast on Wednesday 23 March 2016 2:00pm GMT