Several companies are supporting employees in the UK who are participating in the Global Climate Strike protests taking place today.
The Co-op Bank, clothing firms Patagonia and Burton, ice-cream manufacturer Ben & Jerry's, sparkling water manufacturer Sodastream, herbal tea supplier Pukka and retail cosmetic chain Lush are among companies that have announced plans to shutdown some operations in support of the strike, while websites such as Tumblr and Kickstarter are participating in a digital strike.
[polldaddy poll=10413351]
The Co-operative Bank has worked in combination with the Unite union to allow staff to participate in the day of action. The bank's CEO, Andrew Bester, pointed to the organisation's mandate from customers to support the strike. He said: "Since 1998, our customer-led ethical policy has included a commitment not to bank any business whose core activity contributes to global climate change via fossil fuel extraction or production.
"Being seen as a leader in action on climate change is important to our customers and colleagues, but it's also important that our efforts are part of a wider movement to tackle the global climate emergency."
Unite national officer Rob MacGregor said: "This joint work is a remarkable statement by a financial services institution. Unite is extremely proud that The Co-operative Bank has recognised the importance of enabling its workforce to join the Global Climate Strike.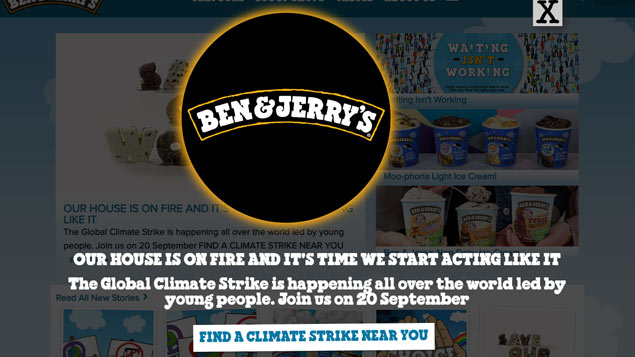 "Unite and the bank are actively supporting members and colleagues to attend local demonstrations where they are occurring, notwithstanding that appropriate cover will be needed to ensure that service is maintained for customers.
"Unite hopes that other employers would follow this outstanding example set by the Co-operative Bank and support their workforce in making their voice for climate action to be heard."
The TUC Congress last week voted overwhelmingly in favour of a motion to support a 30-minute workday campaign action to coincide with today's strike.
Outdoor clothing company Patagonia has shut down all of its stores around the world to support the strikes on 20 and 27 September. It's UK strike is today and the company has closed its Manchester store. Ryan Gellert, general manager of Patagonia's Europe and Middle East division, said: "The climate crisis is a human issue – affecting all of us. We are inspired by the youth activists who have led a global movement, and Patagonia is calling for urgent and decisive action for people and our home planet."
The planet needs us!🌍
If you're joining in with the #ClimateStrike today then check out our pals over at @_wearepossible top tips here> https://t.co/JD2PriQZBx pic.twitter.com/Lro0PdDsdh

— Ben & Jerry's UK (@benandjerrysUK) September 20, 2019
Ben & Jerry's issued a statement telling customers: "We're going to disrupt our 'business as usual' on Sept 20 to demonstrate our solidarity with global climate strikers. "We believe we all must change the way we live, and the way we do business." The company, since 2000, has been owned by Unilever and has long been associated with environmental sustainability in terms of ingredients and packaging. It also operates a Caring Dairy scheme for its 300-plus dairies in the US and Europe to promote sustainable farming practices.
Pukka, another Unilever-owned firm (since 2017), yesterday published a "climate declaration" that stated: "Based on the sobering research and statistics, indicating the severity of planetary damage caused, and the small window we have to reverse the effects, we believe it is our moral duty as a company operating today, to declare a Climate and Biodiversity Emergency. As a result … our goal to be carbon neutral by 2030, has been brought forward to 2019."
Cosmetic chain Lush, with 105 stores in the UK – most of which were closed today to support the strike – has a history of supporting biodiversity campaigns and promoting sustainable production processes, and avoids all animal testing of products. It recently closed down many of its social media accounts because it said it had "grown tired of fighting algorithms".