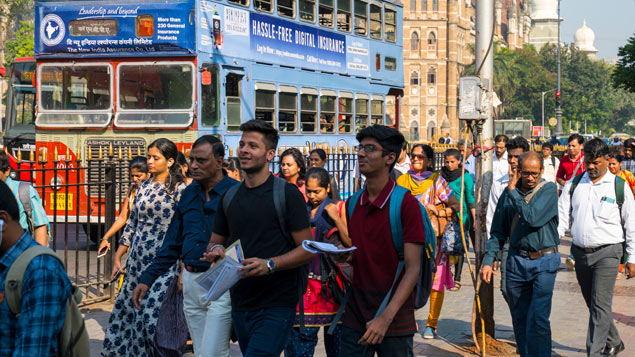 Real salary growth across Europe is expected to slow in 2020, with wage increases lagging far behind pay awards seen in Asia.
Analysis of global forecast salary awards by expatriate management consultancy ECA International found the average real salary increase across Europe is expected to be 1.1%, down 0.1 percentage points on 2019. This is despite inflation in European nations remaining the lowest in the world.
By comparison, workers across Asia will see the highest rates of pay growth, with Asian nations representing 13 of the top 20 countries for real wage increases across the globe.
Workers in India are forecast to receive a 5.4% salary increase – almost five-times the real salary increase predicted for UK employees (1.1%).
The real salary increase is calculated based on the difference between the forecast nominal salary increase for 2020 and the expected level of inflation in that country.
Steven Kilfedder, production manager at ECA International, said: "Once again, the vast majority of the highest real salary increases in the world are predicted to be seen in Asia. The average salary increase in the APAC region after inflation is forecast to be 3.2%, significantly higher than the global average of 1.4% and nearly three times the European average of 1.1%.
Forum for Expatriate Management
"This is a trend that we have seen for many years now due to low inflation and rising productivity in many Asian economies, resulting in salaries growing rapidly compared to other regions."
In Europe, the highest increase to real wages is expected to be seen in Ukraine. Employees in the country are forecast to receive a 4.1% increase in pay, compared with the 1.7% received in 2019.
Kilfedder said: "After several tough years with salary rises lower than inflation – in 2015 they were 40.5% lower – Ukrainian employees may finally see some light at the end of the tunnel with the joint fifth highest real increases globally in 2020.
"In 2020, workers in Ukraine are expected to receive a nominal increase of 10.0%, but with inflation expected to drop dramatically to 5.9%, this will result in an average real salary of 4.1% – the highest in Europe."
Staff in Argentina are expected to see their real pay drop by 22%, despite the expectation of a nominal increase of 29%. This is because inflation is expected to hit an alarming 51%.
"Although President Macri and his government have now been replaced by their populist rivals in a recent election, the outlook for Argentina does not look promising and it is likely that the economic situation will get worse before it gets better," said Kilfedder.
Employees in the US are also set to see slow wage growth with a real pay increase of 0.7% – falling below the average for the Americas, which is predicted to be 1.4%.
Wages are expected to increase by 2.8% in Egypt, following a year in which wages shrunk by 0.7%, while real wages in Saudi Arabia are forecast to grow by 2.4% – far below the 5.8% increase seen this year.
Reward, compensation and benefits opportunities