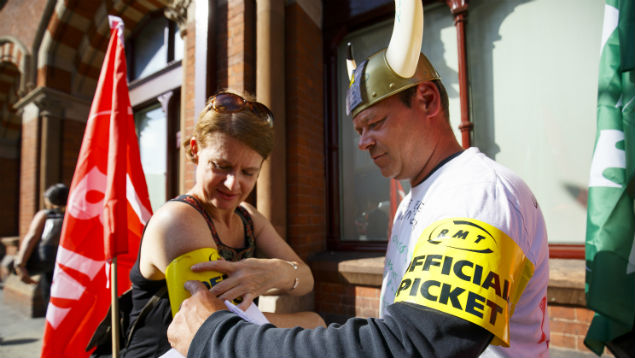 New picketing laws came into force in March designed to prevent trade unions adopting intimidating tactics during industrial action. Nick Chronias, partner at DAC Beachcroft, looks at the likely impact of the changes and whether they could lead to new union tactics in disputes.
The law requires any pickets to peacefully communicate their cause, including asking colleagues to refrain from working. New regulations implementing the Trade Union Act 2016 and an accompanying revised Code of Practice on Picketing (the Code) mean that as of March 2017, unions must appoint a named member or official as a picket supervisor for industrial action involving picketing.
The picket supervisor must be familiar with the Code, be equipped with a letter of authorisation and something to readily identify him/her. He or she acts as a point of contact to ensure that pickets are peaceful, do not cause obstruction, and are otherwise safe and in line with the Code. Without an appropriate picket supervisor, picketing will not be lawful, and the union responsible will not have the established protection from civil legal action.
More on picketing and the Trade Union Act 2016
So far, there are no reported tests of the new rules; but potentially affected employers should be considering what extra obligations and opportunities might result from the changes.
The new laws impose no additional responsibilities on employers; they are for unions to step up to. As with other measures in the 2016 Act, they reflect a view that there has been a lack of accountability for unions during industrial action, and that pickets have been too free to intimidate and stretch the law.
Ahead of industrial action
Employers who may face industrial action should still give some thought to how to respond to the changes. These regulations are an opportunity to do what many employers with recognised unions facing industrial action already do – to engage with unions up-front when action is on the cards to agree ground rules and boundaries, and ideally head off some of the unknowns and misconceptions about workplace picketing.
Having a conversation as soon as possible with local representatives about where picketing will take place and who will be responsible should help to establish a dialogue about accountability and expectations for the upcoming picketing.
While there is no requirement for a union to name the picket supervisor in advance, in practice he or she will be an employee representative or local official already well known from day-to-day union activities. The supervisor may well be the person for such an initial discussion.
Managing expectations with the union in advance will help when preparing local managers who will be interacting with pickets on the day. It will also help when reassuring employees who are planning to work. It will be important to reassure staff that pickets are almost never like the violent crowds of public imagination or perception. They should not expect to face intimidation and if they do there is a clear means for their employer to address it immediately.
During industrial action
Once action is in progress and pickets are outside the workplace, employers will need to consider how to monitor the picket, whether to take action, and what action to take. This will require some pragmatic judgements. There is a balance to strike where pickets and their union know the employer will hold them to the rules, but without worsening relations or alienating striking employees who will soon be back in the workplace.
If a named picket supervisor is not fulfilling his or her role by not remaining at the picket or nearby, allowing picketing to spill onto the roadway or workers from other sites to join the picket, or failing to prevent shouting and swearing at non-striking workers, employers will need to make a judgement about how to address the situation.
Talking to the picket supervisor in a non-confrontational way will often be the best first step. An employer should make it clear that it understands the union's responsibilities, specifying how it believes the picket is breaching the code or is not peaceful or safe, and asking them to resolve the situation. Be clear and sensible about your expectations.
What if the supervisor is uncooperative, belligerent, or simply uncontactable and the employer's concerns remain? What if he or she is unable to fix the situation  because other employees will not listen to them?
If this happens the usual next step will be to escalate the issue to a more senior union official. Most unions in most disputes will want to ensure that they aren't supporting industrial action that puts them at risk of legal action. In the very unusual case that picketing becomes seriously obstructive or dangerous, and the union cannot or will not resolve it, calling the police may be a last resort.
Union's duty to notify the police about the picket supervisor
Under the new rules the picket supervisors or their union must provide their details to the police. This information can be checked if there's a concern the rules aren't being followed, or if no supervisor is identifiable on the day of the picket.
Aside from any rare emergency, police should be made aware in advance of when and where picketing should take place, given the duty to notify them of the picket supervisor's details.
Going forward
The intent of the new rules is to place additional limits and structure on industrial action and they should create greater predictability (and ideally dialogue) for employers. However, the new rules may also have some unintended consequences.
In the past few years we have seen unions and other campaigners develop and sometimes make effective use of pressure and publicity strategies using social media and actions aimed at gaining the attention and support of customers and the public (in the most extreme cases, with protests at the homes of directors).
The new picketing rules are narrowly focussed on traditional picketing at the workplace. There are no laws about use of social media or other unorthodox campaigning methods and industrial action. With increasing limitations and scrutiny on picketing, unions are likely to further explore other avenues of protest and pressure which are only subject to general criminal, human rights and harassment laws.