Policies designed to help fathers in the workplace need reforming if Government is to meet the needs of 21st century families and tackle the gender pay gap, according to MPs.
The Fathers and the workplace report, published today by the Women and Equalities Committee, concludes that the right to request flexible working has not created the necessary cultural change, and the Government itself admitted to the inquiry that its flagship shared parental leave scheme will not meet its objective for most fathers.
Paternity and the pay gap
Why fatherhood holds the key to solving the gender pay gap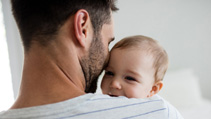 Duncan Fisher argues that employers need to push for a level playing field…
Committee chair Maria Miller MP said: "The evidence is clear – an increasing number of fathers want to take a more equal share of childcare when their children are young but current policies do not support them in doing so."
She said that while Government has taken positive steps with good intentions, workplace policies have not kept up with social change.
"Effective policies around statutory paternity pay, parental leave and flexible working are all vital if we are to meet the needs of families and tackle the gender pay gap," she added.
The committee recommends:
Statutory paternity pay should be paid at 90% of fathers' pay (capped for higher earners) to help ensure that all fathers, regardless of income, can be at home around the time of their child's birth;
Government should consider the costs and benefits of a new policy of 12 weeks' standalone paternity leave in the child's first year as an alternative to shared parental leave;
Immediate legislation for all jobs to be advertised as flexible from day one, unless there are solid business reasons not to;
Harmonising workplace rights for fathers who are agency workers or self-employed with those for employed fathers where practical – for example by introducing paternity allowance similar to maternity allowance.
Committee member Gavin Shuker MP said: "We were concerned to hear that men simply don't feel able to ask their employers for leave or flexible working due to a macho culture or for fear it will harm their career prospects. We need to tackle these attitudes.
"Family-friendly Government policies are unlikely to be effective without a cultural shift. It is very important – and only fair – that fathers of all incomes have an equal chance to bond with their children in the same way as mothers."
Sarah Jackson, chief executive of Working Families, said: "For years mothers have downgraded their careers, and now fathers, desperate to take an active part in family life, are beginning to do the same, saying 'no' to a new job or turning down a promotion. This 'parenthood penalty' must be reversed.
"Introducing the committee's key recommendations – properly paid paternity leave that's a day-one right for fathers, and introducing paternity allowance for self-employed fathers, for example – would send a strong signal from Government about the integral role of fathers in their child's first year."
Jackson felt there is no reason why the committee's call for extended paternity leave should not be introduced alongside rather than in place of shared parental leave.
"Crucially, the committee recognises that efforts to enable father involvement will fail if, upon their return to work, fathers cannot work part-time or flexibly because those jobs simply aren't available and their workplace culture is hostile to their ambition to share care of their children."