As many organisations reflect on their culture and how they should evolve in a post-pandemic world, David Liddle proposes a new transformational culture model that favours purpose, equity and performance. 
Imagine a corporate culture which is fair, just, inclusive, sustainable, and high performing. This is not a childhood fantasy. This is a transformational culture.
There's a quiet revolution happening, and we can't ignore it any longer. The culmination of continued geopolitical turbulence, social justice movements, a global pandemic, the climate crisis and worsening health, social and economic inequalities is leading to a growing sense of unease and uncertainty.
The old cultural orthodoxies of retribution, of 'power over' rather than 'power with', command and control structures, and a perception of 'one rule for them and another for us' are no longer tolerable nor tenable. The cultural tide is changing. If we're weaving the principles of fairness, justice, inclusivity, and sustainability into our collective worlds, why not into our workplaces too?
Purpose-driven business
Evidence suggests that organisations that incorporate a strong, purpose driven company culture, with clear guiding values, are the ones that thrive. In fact, 88% of employees believe that culture is key to business success. Culture matters in all facets of life – let's make it happen for work.
The call for action in my latest book, Transformational Culture, develop a people centred organisation for improved performance proposes a new culture paradigm where the internal conditions are aligned with customer, employee, investor, and stakeholder expectations.
It's this continuous mirroring of needs, values and behaviours that binds us together in our society, home, or organisation. I believe passionately that the shift from transactional to transformational will underpin any future efforts to 'build back better'.
The transformational culture model that I have developed is built around eight powerful enablers, which, when combined, generate a series of powerful outcomes: courage, connection, collaboration, common purpose, communication, compassion, and curiosity.
These outcomes are reinvested back into the culture, combining with each other to turbo charge the cultural transformation and to raise the organisation to new heights.
Call for courage
Tinkering at the edges won't cut it. Renaming a few policies, creating a nice-looking values statement, and having the odd town hall aren't enough and will be seen as feeble and weak. HR, leaders, managers and unions need the courage to come together – driven by a powerful sense of common purpose and collaboration.
Organisations need the courage to rid themselves of the outdated, insidious, and corrosive HR policies and management systems that permeate and disrupt our organisations. To be successful, our leaders and people professionals need to be driven by an unwavering commitment to purpose, people and values.
Power and profit are no longer the hallmarks of the successful business. The top talent, investors and customers know that. They demand better. They want to rid organisations of old-style retributive justice viewed so clearly through the prism of the discipline, performance, and grievance procedures. Instead they want to see a new and progressive model of transformational justice where purpose, people and values come first.
The paradox of an HR department dishing out distress through its broken policies, yet straining for a strategic role at the board is viewed by dismay by many and is, I believe, an existential threat to the very purpose of HR.
A new type of HR business partner
In my book, I suggest that the term HR business partner so commonly viewed with mistrust – as the 'long arm of management – should transform itself into a people and culture partner.
A role committed to driving and sustaining purpose, people, and values (ergo business success). In addition, the HR function should transform itself into a people and culture function, designed to deploy organisational purpose and values through a newly established, cross functional "transformational culture hub".
Dave Ulrich, the name behind the Ulrich model of HR, has spoken out in favour of these changes. He argues that "this work on transformational culture defines the outcomes of culture for all stakeholders".
He believes a transformational culture model as I propose would offer a blueprint for thinking and a roadmap for action to create culture at all levels.
The transformational triangle
I flesh this organisational ideology into a tangible design by providing a scope and toolkit to put the words into action. Within a transformational culture, organisations are shaped by three distinct yet co-dependent elements that together form a triangular approach:
Transformational leaders
Transformational leaders exude the purpose, they communicate the vison, and they align their behaviours with the values of the organisation. Instinctively, they understand that they are the role models; that the way that they act, interact and react (the AIR they breathe) shapes the culture and the climate of their organisation.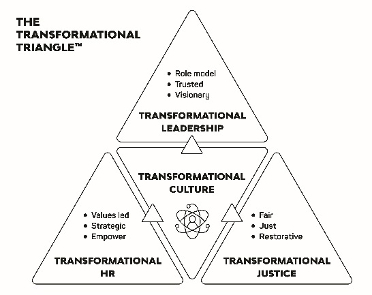 They create the conditions for their people to be the most brilliant versions of themselves, by engaging in quality conversations and by creating psychologically safe spaces for dialogue. Transformational leaders act with objectivity whilst empowering others, demonstrating both self-awareness and empathy, and seeking constructive, win/win remedies to complex business problems.
Transformational justice
Transformational justice blends procedural justice (robust, rigorous and legally compliant) with restorative justice (compassionate, inclusive and fair). In so doing, the organisation is rejecting the tired, reductive, corrosive, and damaging models of justice that have created so much harm, to so many, for so long.
Harm is reduced, trust is built, and relationships are protected. Psychological safety is promoted through an emphasis on early and informal resolution, creating opportunities for insight, reflection and learning.
Transformational HR
The transition to a people and culture function is one of the most exciting elements of a transformational culture. Connecting employee experience with customer experience, the new people and culture function ensures that the climate experienced by employees and stakeholders matches the organisations cultural and strategic objectives.
Working collaboratively with unions, employee groups, managers and other partners, the people and culture function creates a powerful cross functional transformational culture hub to design and deliver the new culture and its associated systems and processes. Within a transformational culture, the people and culture function is guided by a set of new standards and competencies such as positive psychology, principled negotiation, nudge theory, systems thinking and restorative justice.
Transformational culture in practice
The model is receiving numerous accolades from organisations desperate for a new cultural paradigm and a practical blueprint. One example is Northeast Lincolnshire Council (NELC). The Council felt that its traditional suite of policies mismatched the modern and evolving values that they wanted to achieve.
Jonathon Sturgeon, People Partner at NELC, understood the need for a culture change: "A lot of policies forget that there's a person at the end of each process. Treating people with respect is second nature to us as a team, and our procedures needed to reflect that."
In a transformational culture, the culture of an organisation becomes an asset rather than a liability. My approach ultimately offers not a prescription but a proposition for businesses to be as effective internally as they are externally.
Surely, as we are all straining every sinew to build a workplace fit for the 21st century, we can no longer leave culture to chance. It's time to get to work.
Change management opportunities on Personnel Today

Browse more Change management jobs