Employers and HR are told they need to be agile but how can you achieve it? David Perring outlines the 2018 findings into the realities of HR around the world from Fosway Group's annual research, in association with this week's Unleash event in Amsterdam.
1. It's all about organisational agility now
There is something very telling in how HR rates its perception of the wider organisation's most significant business challenges. In this year's HR Realities research, the need for agility – the speed, and flexibility that keeps organisations ahead of their competitors – comes through loud and clear.
In HR's ranking of business challenges – 'Increasing business agility' came second only to 'Increasing performance and profitability' – the perennial frontrunner, and just in-front of 'Improving customer and service quality'.
Clearly, as HR looks at its stakeholders, it is the pace of change and the agility which organisations now need to display to survive and thrive in the modern economy that really matters. And while agile thinking has been valued by the early adopters for some time, it is only just now permeating mainstream thinking. In business, the race to deliver better is – relentlessly – speeding up and everyone, including HR, is feeling the pressure.
Key to addressing agility appears to be digital transformation – a term often used as a label and equally rarely defined. But as we edge closer to 2020, successfully delivering this transformation for organisations is creeping up the HR agenda.
In this year's HR Realities survey, 'Having a digital ready culture', now features as one of the top measures of success for HR. That's alongside, 'Employee engagement', 'Being an employer of choice' and 'Delivering a strong talent pipeline'.
2. New HR systems built on old models don't deliver genuine transformation
The biggest challenge for HR though, may not be the shifting in strategy to this more agile world, but the tools and shift in thinking around HR, its silos and the role of HR business partners.
When we ask HR if their current people systems are ready for the modern workforce, only one in five think they are. Which means that around 75% have not got HR systems that are fit for purpose.
Partly, that is driven by the incredibly fragmented HR systems that most European organisations are working with. Fragmentation – where there are multiple different systems across a HR IT infrastructure – is a theme that's been consistent for the last five years of this research.
But more importantly, it's the challenges that fragmentation creates for HR professionals to undertake effective analysis of the data. Analysis not simply of HR data in isolation, but the job of analytics set against the backdrop of broader business data.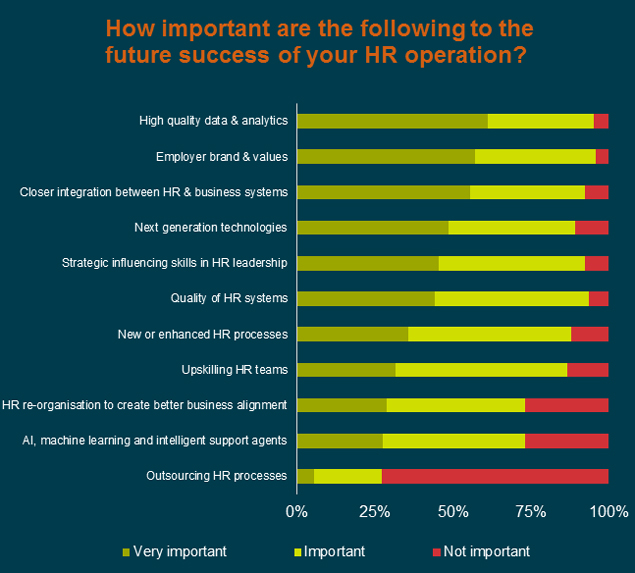 3. Personalisation will be the hallmark of tomorrow's successful HR organisation
Only when the wider business data is part of the mix can HR teams truly show the impact of HR initiatives for their organisations. But the challenges of analytics is not just an issue of understanding and articulating HR's value, it is also about having the data that's needed so that HR can raise its game in servicing their people – whether they are employees or contingent/contract/gig workers.
And by 'servicing' we mean the ability for HR to create hyper-personalised experiences that revolutionise people's relationships with their employer, re-energise HR processes and, in so doing, brings true transformation to the 'people experience' – not just doing old things in a digital way which seems to be so much of what digital transformation has been about to date.
Ninety-five per cent of respondents see artificial intelligence affectng their HR strategy in future and 45% believe it will be 'truly significant' in less than two years. It is this that gives HR the important opportunity to give people a more tailored, personalised experience. But the right systems and architecture need to be in place to deliver on this.
4. Individual detail, not a monolithic single source of truth, will power the next revolution in HR
The connection of many different granularities of truth about individuals within their organisations, the dynamics of the teams they operate within, their wellbeing, their outputs and outcomes they create – are going to be more precious than a single source. This highlights an underlying shift in how HR and organisations think about using data.
The primary model used at the moment is to use data for the HR organisation and to arm managers to make 'parental' decisions for their teams.
As we look to future, a world where data is used to arm employees and workers to make better decisions, the challenge will be for HR to keep away from data which actually they should have no right to use – but insights in the hands of employees – enriches the brand and their love of working for you.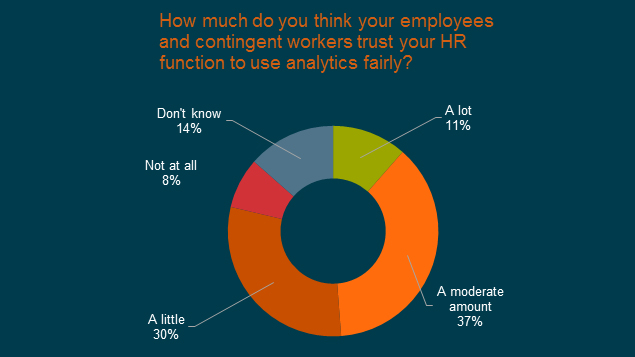 HR needs to recognise that even today, trust in how people's data is used is an area for concern. And if we open more data sources tomorrow, it's not going to generate the right relationship with employees, unless HR starts reframing who the data really serves – its people. Because it is people that HR should empower to be agile – not organisations.
But is that view part of the design of HR systems today and the ones on the market? Inherently no, because they have been serving old models around HR administration rather than empowering agile organisations with agile people processes, supported by deep people intelligence.
5. Focus on serving your people, before you serve your leaders, if you want to be truly agile
So, what is coming? In the short term, a growing number of HR buyers who become disappointed by the inability to drive the business agility and flexibility they desire – and a growing recognition that their HR systems, are potentially at odds with the behaviours that they aspire to as a business.
Couple with frustration with their inability to nudge the culture, personal resilience and organisational energy and innovation that's required to be a hyper connected and high performing business which is inherent in being truly agile.
With former head of people operations at Google, Laszlo Bock, talking about his "nudge engine" Humu and organisational identity, we may just find our established view of the HR landscape is about to change. Because it's not just the process of digitisation that matters. And it's not just the data that matters. It's the shift in thinking about how we serve our people with approaches that are fit for the future. Something inherently more three-dimensional, more human and more deeply linked to supporting individuals and teams than we have ever done before – HR re-invented.