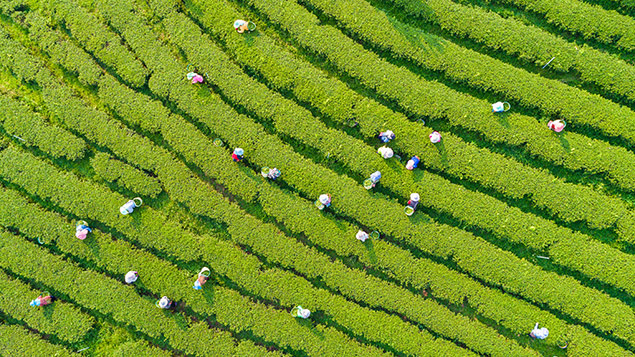 With legal action hovering over British American Tobacco, and G4S shares being blacklisted by an investment fund, it's clear that businesses have plenty of incentive for ensuring their supply chains are as free from modern slavery as possible. But, asks Adam McCulloch, can compliance with the Modern Slavery Act guarantee they are free of risk?
It is a disturbing truth that many of the goods and services sold to consumers every day in the UK are produced by workers who suffer severe exploitation. Globally there are an estimated 16 million victims of forced labour in the private sector, according to International Labour Organisation research.
Cases such as the horrific discovery of 39 bodies in a refrigerated truck in Essex – mostly young Vietmanese people – grab public attention. But what of UK firms with long supply chains reaching into distant countries? It's not as if businesses have been turning a blind eye: Hult Research in partnership with the Ethical Trading Initiative found 77% of leading companies acknowledged that modern slavery was likely to be found in their supply chain.
Until recently, the plight of many workers involved in the production of goods sold in the UK by household-names stayed hidden. Even where charities have become aware of poor practices, concerted action has been slow to materialise, as noted by Oxfam in its recent report on the issue.
The Modern Slavery Act 2015 was the first rung on the ladder towards tackling the issue. But even companies that are highly regarded in terms of their compliance with modern slavery legislation remain vulnerable: British American Tobacco is now facing serious child labour allegations over practices in Malawi, this despite coming third behind M&S and Tesco in the Global Governance FTSE 100 Index, which ranks businesses' compliance with the Act. And the Norwegian Sovereign Wealth Fund blacklisted shares in security giant G4S because of alleged labour practices affecting Asian workers in the Middle East.
Does compliance matter?
The Act's Transparency in Supply Chains clause stipulates that all firms operating in the UK with an annual turnover above £36m need to produce a statement setting out the steps they are taking to address and prevent the risk of modern slavery in their operations and supply chains.
But fears have persisted that some companies may not be taking the Act's requirements entirely seriously. Last year the Home Office stated it would name and shame any of the 17,000 qualifying companies that failed to comply with the Act or hadn't registered with its Modern Slavery Contact Database. This tougher stance stems from a review that found only 50% compliant and a large proportion of poor-quality disclosure statements, many failing to meet legal requirements. Non-compliance means that companies have either failed to publish their statement on their websites' homepages, left their statements unsigned by a director or failed to make them available in time.
A Home Office spokesperson tells Personnel Today: "Modern slavery is a truly horrific crime and the government is committed to stamping it out wherever and however it occurs." The Home Office has consulted on proposals to strengthen the legislation including new enforcement measures. It's keen to point out that ministers have written twice to the chief executives of the 17,000 businesses to "make it clear that there are no excuses for non-compliance" and confirms it will publicly name the non-compliant.
The spokesperson emphasises how important it is for businesses to produce meaningful statements, "which clearly show how they are prioritising action to improve the conditions for the most vulnerable workers". The Home Office promises to create a free reporting service to make it easier for consumers to "scrutinise the action businesses are taking to prevent modern slavery in their supply chains". But is consumer pressure enough?
Absence of sanctions
There are still no actual sanctions for companies who fail to play ball. As Cindy Berman, head of modern slavery strategy for Ethical Trading Initiative, writes on her blog: "Arguably the most worrying modern slavery statements are those that say as little as possible. This is often the result of risk-averse legal counsel trying to avoid potential litigation or reputational risk if a company is honest about what it knows and what it is doing. That flies in the face of the purpose of the legislation."
PwC, which was involved in drawing up the Act, recently reported in a health check that company statements offer "little disclosure on supply chains". However, there are mitigating circumstances, it says, in that even major brands have little influence or insight when it comes to remote parts of global supply chains.
Most companies, according to PwC, have leveraged existing HR, procurement and third-party supplier codes to meet the requirements of the Act. This, it says, is perfectly adequate if policies are used correctly but most companies do not apply supplier audits to sub-contractors or Tier 2 suppliers – the places where modern slavery is most likely to occur.
As the report states: "Finding ways to target and extend due diligence beyond tier 1 presents a real challenge but would enable better management, mitigation and transparency." However, some experts doubt that audits are the most effective way of interrogating the supply chain.
For poor employment practices to surface it is important that workers feel they can disclose information without fear of losing their livelihoods or risk of punishment of some form. Whistleblowing procedures are an important part of guaranteeing a "clean" supply chain, but the PwC health check found only 24 companies provide a helpline for supply chain members. Only 16% of statements gave information on current processes against KPIs, with financial services, logistics and pharmaceuticals performing worst.
Only 3% of the 70% who train staff in modern slavery ethics offer the same training to sub-contractors. According to PwC: "Offering training to supply chain members would help raise awareness and mitigate against modern slavery, especially if offered in conjunction with a whistleblowing facility."
Analysis by the Modern Slavery Registry (formed by the Business and Human Rights Resource Centre in partnership with bodies including the TUC, Oxfam, Unicef, Ethical Trading Initiative etc) bears out these problems with making the Act's provisions stick.
The Registry concluded last year that the Act has failed to deliver transformational change with the statements of most FTSE 100 companies being "bland and ill-defined". It writes: "Three years into the Act, most companies publish generic statements committing to fight modern slavery, without explaining how, and only a handful of leading companies have demonstrated a genuine effort… to identify vulnerable workers and mitigate modern slavery risks."
For Patricia Carrier, modern slavery registry project manager at the Business and Human Rights Resource Centre, the "landmark piece of legislation" has failed to live up to its promise: "The main problem is still enforcement – the law has no teeth. Bizarrely, companies can report having done nothing to prevent modern slavery and still be in compliance with the law."
Carrier says that the Centre's analysis of thousands of company statements has found that most FTSE 100 companies (73%) are failing to report sufficient measures to tackle modern slavery with several thousand firms failing to report year after year.
Human rights due diligence
Ultimately, legally mandated action is needed, says Carrier: "The UK government should join those of France, the Netherlands and Finland in introducing mandatory human rights due diligence. Only by moving beyond voluntary transparency can modern slavery be effectively tackled." Organisations themselves are starting to appreciate this, she says: "There are signs companies recognise that voluntary transparency under the Act is not working and that we need stronger leadership from the government."
France has a Duty of Vigilance law which require companies to actively identify human rights risks and prevent human rights abuses in their supply chains. The Netherlands has passed a similar law on child labour, while Finland has committed to introduce such a law and use its EU presidency to push for European legislation.
Such an approach, writes Cindy Berman at Ethical Trading Initiative, means "looking beyond the first tier of their supply chain to the lower tiers, where modern slavery is likely to be hiding". The Registry's interactive dashboard showing the compliance of major firms can be found here.
Voluntary reporting not enough
Oxfam's Rachel Wilshaw, ethical trade manager, remains positive about the Act. She says it's "encouraging some companies to be more transparent. If done well, a modern slavery statement can go beyond an exercise in compliance.
"For example, an effective, informative and substantive statement will address and report on modern slavery in the context of a broader human rights due diligence context." But, she adds: "The current lack of checks and balances on laggards mean that markets are not rewarding leaders fairly."
The law then needs teeth, or those businesses that have tried hardest to be transparent will be penalised: "There are no sanctions if they don't publish anything, or put out very poor quality statements that say nothing. In effect this penalises companies – particularly multinational, consumer-facing businesses, which are very open about the risks and what they doing to manage them: they can be targeted by the media and can experience no benefits from doing the right thing."
Oxfam recently published a study highlighting slavery and exploitation in UK supermarket supply chains and put forward a framework for action on workers' rights within supply chains which includes publication of first- and second-tier suppliers, gender ratios for each site and the labour share value for the lowest paid workers at each stage of the supply chain. It is pushing for human rights due diligence legislation to be passed to address corporate accountability across all aspects of companies' operations and supply chains.
There are no sanctions if they don't publish anything, or put out very poor quality statements that say nothing material at all. In effect this penalises companies – particularly multinational, consumer-facing businesses, which are very open about the risks and what they doing to manage them: they can be targeted by the media and can experience no benefits from doing the right thing"– Rachel Wilshaw, Oxfam
For Berman, supply chain transparency legislation in the UK and other countries has begun to make a difference but the reliance on audits remains a weakness. She writes: "Despite growing recognition that audits are flawed and are not the solution to addressing labour exploitation and abuse, companies still rely on them as the primary way to vet and monitor their suppliers.
"Companies reliant on audits might feel that they know what's going on and that their backs are covered. But neither of these assumptions is true. That's because most modern slavery is found in the less visible, informal parts of the supply chain, where audits cannot reach. So cases continue to emerge, even where workplaces are audited."
Supermarket sweep
Fairtrade, which began operating in the UK in 1992, is a major part of the story because the foundation exists to ensure workers enjoy a greater cut of the income generated by their labour and to improve the health, welfare and education of the communities they live in.
However, in 2017 Sainsbury's pulled its own-brand teas out of Fairtrade certification, causing Oxfam to write to the supermarket: "We see 'own brand' certification standards as a step backwards in tackling major issues related to poverty and environmental sustainability… we believe the proposals themselves fall short of the Fairtrade standards on deep-rooted issues such as addressing very low wages in the tea sector as well as worker empowerment. Removing decision-making on the use of premiums from farmer organisations goes against the clear evidence that financial decision-making power for workers and farmers is essential to help them realise human rights, improve environmental sustainability and increase economic development."
Sainsbury's stands by its decision to replace Fairtrade with its Fairly Traded pilot scheme which, a spokesperson for the retailer tells Personnel Today, "helps drive the environmental, social and economic sustainability of tea farmers, workers and their communities in Malawi, Rwanda and Kenya". The supermarket still sells other Fairtrade products.
Despite growing recognition that audits are flawed and are not the solution to addressing labour exploitation and abuse, companies still rely on them as the primary way to vet and monitor their suppliers" – Cindy Berman, The Ethical Trading Initiative
It says it now has a better view of the supply chain: "Over the past two years this pilot has enabled us to gain greater insight and transparency into our tea supply chains and build a stronger understanding of the challenges producers face. By working directly with producer organisations, we can ensure that farmers' interests are genuinely represented in how they spend the Sainsbury's Fairly Traded Social Premium – which they accrue above the price of the tea they produce."
Despite the criticism, supermarkets are among companies that appear to take their modern slavery statements particularly seriously, presumably because they are so well known and need to respond to public opinion. Sainsbury's group CEO Mike Coupe states: "We understand our duty to respect human rights, we are committed to identifying vulnerable workers and we will not tolerate any form of slavery or servitude in our business or supply chains."
One way it strives to do this is with a risk assessment tool that, apparently, "provides a level of detail that is unprecedented in our industry, combining our own data with economic models of sectors such as agriculture and manufacturing. This enables us to identify risks in multiple tiers of our supply chain, so we can take action."
Most consumers reading the statement will feel reassured that the retailer is playing its part in upholding the spirit of the Act. The same goes for Asda, whose statement describes a recently established Modern Slavery Risk Register, designed to help the firm (and its owner, Walmart) "better understand the likelihood and impact of modern slavery occurring within our business processes and supply chains." The firm says it works with third-party auditors the Business Social Compliance Initiative, the Responsible Business Alliance and Sedex Members Ethical Trade Audit to promote "continuous improvement" in its risk processes.
Top of the table but not immune
Tesco, second in the FTSE 100 review of modern slavery compliance, has a statement particularly strong on detail, revealing how its "protector lines" offer a route for whistleblowers all over the world to report poor treatment and practices.
Among other transgressions, these lines has exposed human rights violations in Tesco's supply chain at sites in Thailand and Malaysia where workers were found to be indebted through payment of recruitment fees to labour brokers. In India, the identity cards of 44 workers were being held by a factory and child workers were uncovered in China. Tesco also identified 110 cases at 88 sites of people not being paid on time or indeed at all and says it intervened to ensure 7,392 workers received more than $500,000 in lost wages. In some cases suppliers were suspended.
A Tesco spokesperson tells Personnel Today the retailer has no plans to drop Fairtrade lines: "Certification continues to play an important role within our responsible sourcing strategy. We want to make sustainable products affordable and accessible to all, and all Tesco brand coffee, chocolate, tea and bananas, to name a few products, are sourced through leading certification schemes."
We make it clear to all of our contracted farmers and suppliers that exploitative child labour, and forced and bonded labour, will not be tolerated. These minimum standards are expected of all our suppliers worldwide" – Simon Cleverley, British American Tobacco
Marks and Spencer leads the FTSE 100 table of compliance, and has produced a similarly detailed statement, although it does recognise the limitations of mainstream ethical audits to identify issues. "As we have gone further down into our supply chain, we have also encountered challenges. This has included the time it takes to map supply chains several tiers down, and reluctance from entities further down the chain to undertake additional due diligence at the request of a customer several steps removed, and where our purchasing power may be small."
There is no shortage in fine words, but real solutions may only lie in the price being paid to producers. Leigh Day lawyer Oliver Holland, in relation to the legal challenge now hanging over British American Tobacco concerning child labour in Malawi, says: "While BAT amasses huge profits, the farmers that do the gruelling and hazardous work of picking the tobacco leaves are paid little to nothing. It is time that multinational corporations that make money from exploited workers are held to account."
But BAT's commitment to human rights could not be more clearly stated in its modern slavery statement. Group head of corporate affairs at the firm, Simon Cleverley, says: "As part of our Supplier Code of Conduct, we make it clear to all of our contracted farmers and suppliers that exploitative child labour, and forced and bonded labour, will not be tolerated. These minimum standards are expected of all our suppliers worldwide, and are incorporated into our contractual arrangements with each supplier." It could not comment further on the specific case for legal reasons.
And, similarly, the work done by G4S on its supplier code and modern slavery statement stands in stark contrast to the finding that thousands of migrant workers have faced appalling conditions and poor employment practices in the Middle East.
It may be that modern slavery statements are not enough. Organisations that are non-compliant face no sanction, while businesses that are doing their utmost to reduce and mitigate risk of worker exploitation still face legal and reputational challenges. The race to provide the cheapest prices on the high street creates fertile ground for cheap labour further afield. Consumers' attitudes may be a deciding factor, but most agree that legislation needs strengthening to truly make a difference.